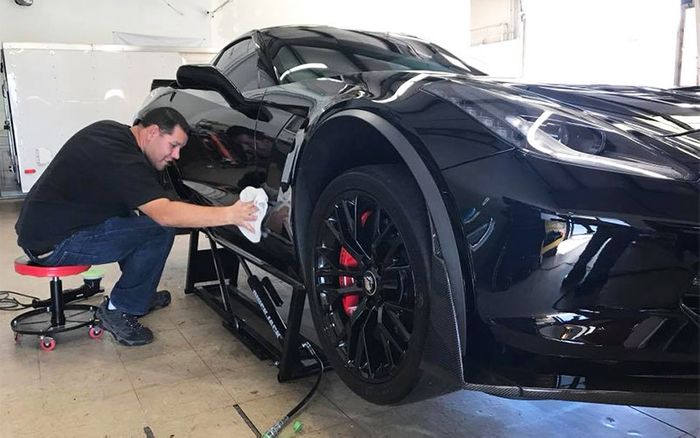 Meet Bill
Hi, I'm Bill Anderson, owner of Colorado Auto Spa. I have been around cars my whole life. As a child, I was tasked with cleaning the wheels and tires on my dad's classic Mustang. As an adult, it has become a passion that is reflected in my work. After 15 years of detailing for family, friends, and personal show cars, I opened Colorado Auto Spa as a way to turn my passion into a career. For the last eight years, Colorado Auto Spa has been a leader in quality and innovation here in the Denver metro area.
Why Colorado Auto Spa?
We take detailing to a new height by offering superior customer service and outstanding results. We are currently mobile with the ability to offer any detailing service and at the convenience of your location . We are 100% self-contained with water and power on board our specialized mobile detail van.
Since we use products from leading manufacturers, we can guarantee great results. We don't use cheap products or cut corners to make a few extra dollars. Our products are supplied by Meguiar's Car Care, Adam's Polishes, Optimum Polymer Technologies, Gtechniq, Gyeon Quartz. Our relationship with these manufacturers allows us to stay up to date with the most current products and training, giving us an opportunity to better serve our clients.
We are proud to be the only certified mobile detailer in Colorado to offer Opti-Coat Pro, Gtechniq Crystal Serum Ultra and Gyeon Quartz, which are hands down the best Ceramic Coatings on the market.
We service the Denver metro area and as far south to Castle Rock east to Parker/Aurora, North to Boulder/Longmont west to Evergreen. If you are out side of this area please contact us as we do make exceptions to our standard service areas.
Our Work
At Colorado Auto Spa, our work speaks for itself!
We have and currently work with auto manufactures such as Audi North America, BMW, General Motors, Ford, Infinity, Nissan, Mercedes Benz, Volvo, and Jaguar to name a few. We also work with nationwide marketing firms for ride and drive events to ensure the cars, trucks, and SUVs are clean and ready to impress clients.
Ceramic Coatings came on the market in the late 2000s, and we were among the first to become certified to install the best Ceramic Coatings here in Denver. Not only were we the first, but we are also the only certified installer in the state offering a mobile service. We offer Gtechniq, Gyeon and Opti-Coat Pro ceramic coating.
Our fully stocked van brings the detail shop to you no need to find a ride back and forth to get you're vehicle from a shop. Our services are completed at you're home or office in a timely matter.